Work Experience
2022 Jun-
Independent
Researcher
Hasselt University, Belgium
Project: AdaPore: rigorous and fully adaptive model selection for multiphase flow through porous media.
Developed guaranteed, robust and efficient a-posteriori estimators for general nonlinear elliptic problems. Used the results for a rigorous and adaptive linearization algorithm for the Richards equation.
2021-2022
Post-Doc
Radboud University, The Netherlands
Advisor: Dr. S. Sonner
I investigated the PDE-PDE & PDE-ODE models arising from spread of biofilms. Biofilm equations are nonlinear degenate parabolic equations couple to a substrate equation by the source term. We looked into the existence-uniqueness of weak solutions, as well as, travelling wave solutions, their stability, and in general spreading behaviour of the biofilms.
2020-2021
Post-Doc
INRIA Paris, France
Advisor: Prof. M. Vohralik
Project: ERC Consolidator Gatipor: We derived robust and locally space-time efficient a-posteriori error bounds for fully degenerate Richards equation, and demonstrated the efficiency of the estimators numerically. The FreeFem+ codes can be found in this github repository .
2019-2020
Post-Doc
TU Dortmund, Germany
Advisor: Prof. B. Schweizer
Formulating as a one and higher dimensional TW problem, we proved the existence of finger solutions having a free-boundary. The predictions were validated numerically by an adaptive algorithm.
Education
2015-2019
PhD
Advisor:
Funding: Shell-NWO Computational Sciences for Energy Research grant, UHasselt BOF17BL04.
Thesis: Mathematical Complexities in Porous Media Flow
Award: cum laude (highest award in the Netherlands awarded to top 5%)
Topic: On numerical and applied analysis of multiphase flow through porous media. Modelling of non-equilibrium effects, and computation.



2010-2015
B. Tech-M. Tech,
Mechanical Engineering
IIT Kharagpur, India
Cumulative GPA: 8.84/10
Additional GPA: 7.47/10

Received Honourable Mention from the institute for outstanding performance in both academics and extracurricular activities.
Ranked 2nd in the department
Captain of the institute Maths Olympiad (Gold winning) and Product Design (Silver winning) teams.
Fellowship, Grants, and Awards
Junior Postdoctoral Fellowship
FWO (Research Foundation Flanders)
2022-25
Was awarded this prestigious fellowship for a 3 year independent researcher position (~250,000€) in Hasselt University (20% success rate).
Oracle for Research Grant
Oracle
2023-24
Awarded 12,500€ of cloud credit for the project AAMPS: Adaptive and AI-assisted model-selection and parallelisation in subsurface flow applications
Akademia mobility scheme
Equinor
2022
Awarded a travel grant (15000 NOK) to visit University of Bergen (Norway) for collaboration.
NDNS+ grant (2500€) , Radboud internationalization grant (2500€)
2022
Received the grants for the organization of the Nonlinear Diffusion Equation & Applications in Biology conference.
Student Travel Award
InterPore Scoiety
2019
Selected among 30 applicants to receive the travel award for participating in the Interpore 2019 conference.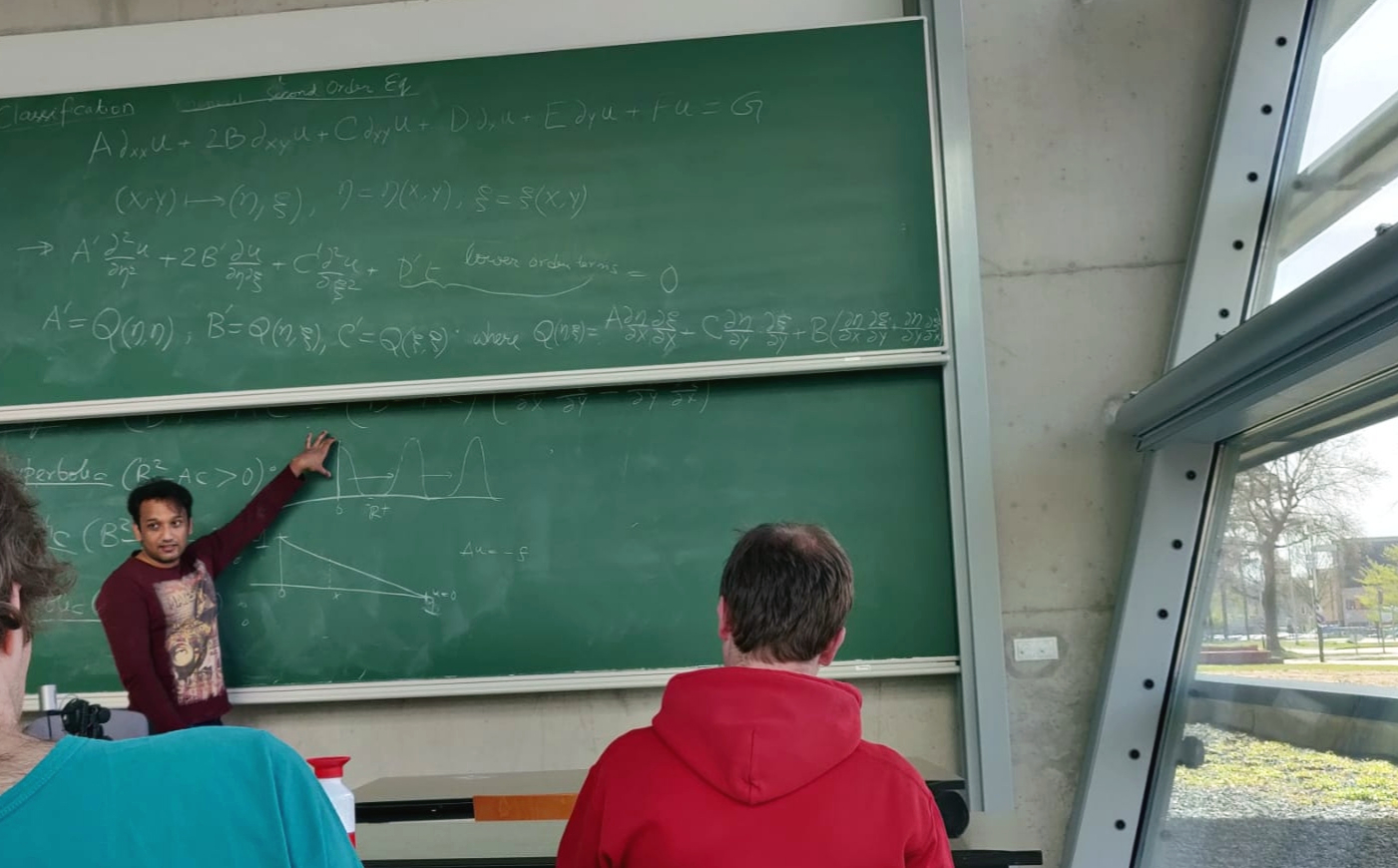 Teaching and Supervision
Co-supervising doctoral thesis of A. Javed
Hasselt University
2022-
Co-supervising masters thesis of R.K.H. Smeets
Radboud University
2022-23
Lecturer of bachelors course Discrete & continuous dynamical systems, Physics
Hasselt University
2023
Co-lecturer of bachelors course Partial differential equations, Mathematics
Hasselt University
2023
Lecturer of masters course Sobolev spaces & PDEs, Mathematics


Course rated 8.7/10
Awarded Pluim prize by the Programme Committee of Mathematics.

Radboud University
2022
Co-supervised bachelor thesis of I.C. Bloo & M.E. Rinner
Radboud University
2021-22
Co-supervised masters thesis of S.B. Lunowa & F. List
TU Eindhoven
2017-18
Correcter for Analysis I course, Mathematics department
TU Dortmund
2019-20
Teaching assistant, Dynamics course, Mechanical Engineering department
TU Eindhoven
2016-18
Teaching assistant, Mathematics I course, Mathematics department
TU Eindhoven
2017
Teaching assistant, Signals course, Electrical Engineering department
TU Eindhoven
2017
Voluntary teacher at Sramajibi Vidyalaya for underpriviledged children
West Bengal, India
2013-15
Mentor in Student Mentorship Programme
IIT Kharagpur
2012-14
Management
Conference Organization
Minisymposium Organization
4-8 Sep, 2023
Lisbon, Portugal
ENUMATH
Robust numerical methods for nonlinear problems in biology
8 invited speakers, 2 sessions.
Co-organizers:
Dr. Q. Peng, Dr. T. Köppl
19-22 June, 2023
Bergen, Norway
SIAM Geosciences
Iterative methods for porous media applications
8 invited speakers, 2 sessions.
Co-organizer: Dr. S.B. Luonwa
Entrepreneurship
2013-15
Portable Diagnostic Center (PDC)
Your browser does not support the video type (-mp4).

Designed and manufactured microfluidic CD-based diagnostic device with two other partners.
Won numerous accolades and grants including prestigious Unconvention|L Pitch, Kshitij 2014.
Internships
2014 Summer
CD-Adapco, Bangalore, India
Investigation on breakup of finite sized droplet filaments

Validated droplet breakup phenomenon using VOF method with Star-CCM+.
Results published by the company at $\mu$-TAS 2014 conference.

2013 Summer+Winter
Whirlpool India Ltd, Pune, India
Mathematical modelling of oven door hinges

Analysed patented oven door hinges of the suppliers.
Produced patentable alternate designs that have the same performance.
Won the `Best Internship Award'.

2012 Summer
Hindalco Industries Ltd, Kolkata, India
Stress analysis of Tension Leveler
Analysed and automated buckling removal process of Tension Leveler machine.